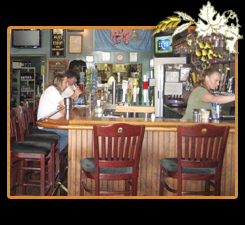 Lucky Baldwins British Pub & Cafe was opened in July 1996 by English owners David Farnworth and Peggy Simonian, who turned a run down business into the beer haven it is today. it is located in the heart of Old Town Pasadena, in one of the oldest buildings in town.
Lucky Baldwins Delirium Pub was opened in 2005, in the quaint village-like town of Sierra Madre up in the foothills.
Like any authentic British pub, Lucky Baldwins offers a friendly family environment and is frequented by many locals. A full kitchen serving breakfast, lunch and dinner makes Lucky Baldwins a perfect place to have a traditional British meal for the whole family.
With 63 beers on tap in Pasadena Old Town and 46 beers on tap in Sierra Madre, the pub offers an array of unique beers, both bottled and tap. Throughout the year Lucky Baldwins also celebrates European drinking festivals, such as our renowned Belgian Beer Festival, IPA festivals, Octoberfest and the list goes on, placing Lucky Baldwins in the top five Belgian beer bars in the US.